nearly 20 years and still going strong
About Keepsake Floral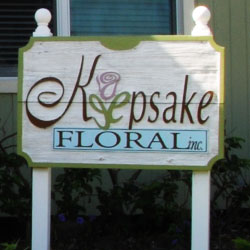 Keepsake Floral's Story
Established in 1994, Keepsake Floral, Inc.® is the Nation's premier floral preservation services provider and has been recognized by and featured in consumer publications such as Martha Stewart Weddings, Modern Bride, Bridal Guide , L.A. Brides and Grace Ormond's Bridal Productions. The company's flower preservation expertise has also been noted by numerous floral trade publications, as well as Lifetime Television's Weddings of a Lifetime and Orlando Wedding TV.
Serving clients with special event flowers nationwide, Keepsake Floral offers brides the ability to keep their actual wedding bouquet!* Keepsake Floral prides itself on quality and individualized attention, allowing brides the flexibility they need at one of, if not the most, stressful times in their lives. Brides can simply place a deposit with Keepsake Floral to start the wedding bouquet preservation process. No design decisions are required until 3-4 weeks after the wedding, after the flowers have completed the preservation cycle. Our highly experienced Design Consultants assist brides in making size, design, frame, fabric and other choices.
As each and every floral keepsake is a custom piece of artwork for the bride, Keepsake Floral highly encourages brides to make the keepsake their own by incorporating their invitation, wedding photo … even wedding favors, tiaras and butterflies from sentimental releases. The custom cut frames for each Keepsake Floral shadowbox receive personal design attention each piece deserves, making a completed flower keepsake everyone's "Favorite Thing!"
There are so many reasons to choose Keepsake Floral to preserve your special flowers!
*Keepsake Floral does not just preserve the flowers and hand them back as they were in the original bouquet form–all flowers are displayed in a picture frame suitable for display on a wall or within a tabletop display.
---
Keepsake Floral's Awesome People
From customer service to framing, design and production (& just about everything in between and beyond!), the Team at Keepsake Floral is here to ensure that your memories are preserved and cared for as though they are our own.
Our staff is made up of a group of professional preservation experts, artisans and craftsmen – who are skilled and passionate about their craft. From the time we receive your flowers or memorabilia to the moment we ship your finished keepsake to you, our Team is there to make sure that you not only receive the attention and caring you deserve but that we deliver a finished keepsake to you that you'll treasure for a lifetime!
---
Keepsake's Funky Orlando Facility
Keepsake Floral's headquarters, floral preservation and design studio is located in the heart of Downtown Orlando. We have been in our vintage warehouse and old Florida cracker house, at 724 Brookhaven Drive since 1995.
The Florida Cracker house serves as our front office, while the house backs up to to ample warehouse space for us to be able to accommodate our preservation facility, woodshop and design spaces.
Contact Information
Phone: 800-616-KEEP (5337)
Local: 407-898-5992
Fax: 407-898-8656
Visit Us
311 Circle Drive, Maitland FL 32751
Our administrative office is open Monday - Thursday, 9 am to 3 pm EST and Friday, 9 am to Noon, EST. This office is closed most major holidays. Please call prior to picking up or dropping off floral arrangements.
Website design by Thrive Creative Labs