get started with your preservation today!
Place a Deposit for Keepsake Floral Preservation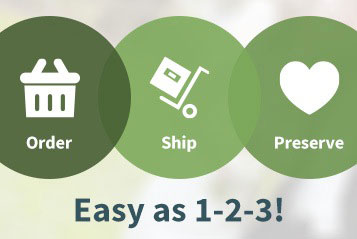 Whether your wedding or event is still months away or has already happened, getting started with Keepsake Floral is simple. All you need to do in order to get started, is choose one of the options below to place an order for your floral preservation. Once we have received your deposit (the total of which gets applied to the price your keepsake) we'll assist you in making shipping arrangements with our complimentary Floral Express Kit.
Please note: If today is less than 5 calendar days before your wedding, you MUST place your order via phone.
Please call Keepsake Floral at 1.800.616.KEEP(5337).
Important Things to Know About Your Order
Your keepsake will arrive in approximately 16-20 weeks.
There is a cancellation fee of $75 if you choose to cancel your order.
You are responsible for the shipping costs of your order.
---
---
Call Us!
1.800.616.KEEP (5337)
Local: 407-898-5992
---
Visit One of Our Preservation Partners
Visit one of our Preservation Partners to see a Keepsake sample, fill out an order form and place your deposit. Partner search here.
---
Place a Deposit by Mail
Print your information with your deposit of $225.00 via check or money order and mail it to:
Keepsake Floral Inc.
724 Brookhaven Drive
Orlando, Florida 32803
Keepsake Floral Mail Deposit
Full Name:________________________________
Wedding Date:____/____/________
Email Address:________________________________
Phone Number:________________________________
Street Address:________________________________
City: ______________ State:____ Zip Code:__________
---
How does the process work from here?
After you have placed your order and deposit, we will send you a complimentary Floral Express Kit – included will be everything needed to ship your bouquet to us via overnight service, the first business day after the wedding. (*For orders placed at least 2 weeks prior to the wedding).
Once your flowers have been preserved, and your signed agreement is received, we will set an appointment with you and one of our design consultants. These appointments are held either over the telephone or in our design studio. We do this with each and every Keepsake client to help you make the best and final selections for your keepsake – including size, frame style, design, fabric lining and ribbon trim.
The balance of your keepsake order will be due upon confirmation of your order with a design consultant. For your convenience, we also have 2 and 3 month installment plans for an additional fee of $50. Once we have received final payment for your keepsake, we will begin the design process.
---
Please note: If you are ordering less than 2 weeks before your wedding, we will need to send your Floral Express Kit to you via Rush Service. Rush fees begin at $35 in addition to your deposit, depending on how we need to send the kit.
I'm Ready to Create My Keepsake!
Place a Deposit Online Place a Deposit by Phone Place a Deposit through a Partner Place a Deposit by Mail