Preserving Sympathy Flowers
Memorializing your Loved Ones in a Beautiful Way by Preserving their Final Flowers
The flowers used to express sympathy for the loss of a loved one are not ordinary flowers. And the memorabilia your loved one has left behind deserves a special display. All are worth preserving for a lifetime.
From an entire floral arrangement to just one or more select flowers, Keepsake Floral will professionally preserve the actual flowers sent to you or your family or those utilized in your loved one's memorial service or funeral.
You'll simply send the flowers to us. Later, you'll make decisions on how you'd like your keepsake or keepsakes to look. We can include personal memorabilia along with the flowers, like a prayer card, favorite trinket or photo…or simply allow the flowers alone to tell the story of your special someone.
The Keepsake Floral Industry helps you guide your families to a meaningful and beautiful way to remember their loved ones.
We make Preserving those Special Flowers simple for you. Here's how it works:
Simply place a
deposit online
or directly over the phone with our customer service team. We'll walk you through overnighting your special flowers to our facility.
Complete shipping instructions for your special flowers are here
.
Overnight your flowers to us using the overnight carrier of your choice.
We'll preserve your flowers immediately upon their arrival at Keepsake Floral.
Within several weeks, you'll work one-on-one with one of our designers via phone to help you make selections for the creation of your custom keepsake.
After final payment, your keepsake will be custom-crafted according to your specifications.  Your flowers will be enclosed in your chosen keepsake, protecting them from damage due to humidity, dust and other everyday conditions…prolonging their life for decades!
Finally, your keepsake will be white-glove inspected, packaged and shipped to you to be enjoyed as a special heirloom for decades to come!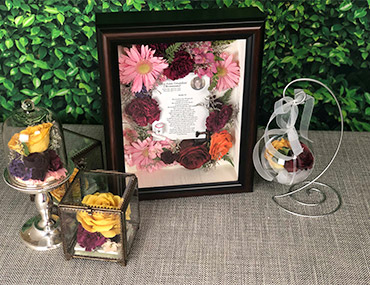 I'm ready - Place a Deposit Online