Don't toss your bouquet, Treasure it forever!
How Floral Preservation Works
Floral preservation is a process that extracts moisture from the flowers (creating dehydrated or dried flowers), maintains the dehydrated state and seals the flowers to protect their natural shape. Floral preservation is an art form that requires precision and a professional's touch and experience.
Keepsake Floral's carefully monitored preservation process keeps your flowers looking much like they did in your original arrangement, but our process produces flowers that are not as brittle as other traditional preservation processes. This is important as our designers work with each individual bloom to create your keepsake. Keepsakes are displayed inside a virtually airtight keepsake environment when finished, an important feature which keeps the flowers within the display safe from everyday environmental conditions that may harm flowers over time.
---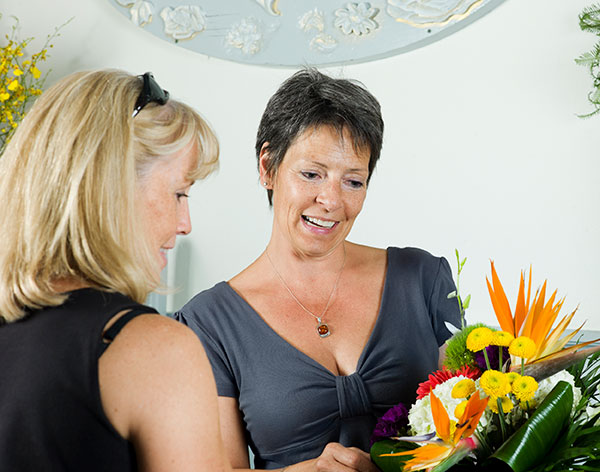 You will enjoy your Keepsake Experience!
Your floral memories are our top priority.
At Keepsake Floral, your flowers are carefully handled and cared for through more than 10 distinct steps, before being sent back to you as a completed floral keepsake.
Plus, Keepsake Floral provides you with everything you need to safely ship your flowers to our Preservation Studio. Our Floral Express Kit will be sent to you after you place your deposit (when your deposit is placed before the wedding day). This kit includes safe packing materials, to protect invitations and photos, and a coolant pack to keep your flowers cool while they are in transit.
ALL of our customers are provided with step-by-step instructions to aid in the care, packing and shipping of your flowers.
---
Getting Started
To begin, simply place your deposit before or even after your wedding or special event has occurred. We only require a deposit and your flowers to start the preservation process. See our Pricing and Ordering section for more information.
NO design decisions will be made until the flowers have been received and preserved.  You have plenty of other things to focus on! You will work with a design consultant 3 to 4 weeks after the event to make your final design decisions.
NO final balances are due at this time, only a deposit.
---
Preserving Your Special Flowers
The first step to a beautiful keepsake.
Preserving your flowers is a detailed process. Each bouquet is photographed from multiple angles immediately upon arrival to our Design Studio.  Your bouquet, wedding flower arrangements and other special event flowers are then disassembled before the flower preservation process can begin.  Blooms are separated from their stems so that each flower can be preserved individually.  This separation is imperative to our ability to maintain the shape of each flower.
All flowers and inclusions (invitation, ribbon, pearl pins, bouquet jewels, etc.) are inventoried and stored.  Our preservationist make notes about the status of each bloom.  Our preservationists then rehydrate your flowers and carefully pre-treat and prepare the flowers for dehydration and preservation, determining the best method and timeline for the types of flowers received.  Your flowers then enter the dehydration phase of our preservation process, which usually takes between two and three weeks, depending on the type of flower.  Once dehydrated, your flowers are removed from the dehydration process and stored in a carefully climate-controlled storage area, awaiting their turn in our Design Studio.
---
Our Design Process Begins with You
A few weeks after your wedding or event, you'll work by appointment with one of our Design Consultants over the phone and with the help of our website.  Design consultations usually last about 30 minutes, during which time our specially-trained consultants will walk you through the decision making process and help you finalize your keepsake design.  Your final design choices will dictate the size, style and price of your keepsake.
We welcome and will gladly incorporate your special invitation, photos, program, favors and other items into your keepsake.  Your Design Consultant will work with you to decide what type and size of keepsake will work best for your flowers and mementos, creating a beautiful layout using these items.  Once your final balance has been paid and your file is considered complete, your flowers advance to our pre-design phase.  Here, our production manager and operations team order the custom materials and supplies necessary to create the design and housing of your custom keepsake.
---
In the Design Studio
Once framing and interior linings are received and prepped, it's time for the artwork to take place.  Your file and order are reviewed by our production manager and assigned to a specific member of our design team for final design.  Any invitations or other elements are prepped, ribbon re-pressed and other accessories cleaned.  Your designer then replaces and repairs any parts of your flowers that need such treatment.  Loose petals are re-adhered and leaves and buds are cleaned up. 
As she follows the notes and design sketches taken during the design consultation, your designer first color-enhances your flowers, matching them as closely as possible to their original coloring and camoflauging any blemishes or imperfections in the flowers.  This color-enhancing seals and locks in the natural beauty of the bloom to last for years.  The colors of the flowers usually deepen during preservation .. white flowers become creamy or more ivory during the process and colored flowers intensify in color.
Then, finally, the flowers are arranged within the flower housing portion of your keepsake, each flower being individually adhered for security.  During this step, our master designers painstakingly place each flower and element where it belongs according to the design specified during your consultation.  This part of our process is the most time-intensive individual step and takes several detailed hours.
Once completed, each design is sealed in a climate-controlled environment where they receive the first of several quality-control checks.
---
Into the Keepsake Framing Workshop
Coming down the home stretch!
Keepsakes then enter our framing workshop, where the required frame has been custom-cut and assembled to perfectly fit and highlight your floral keepsake.  However, frame prep work begins long before the actual floral design does, ensuring that once the keepsake is completed in the Design Studio and has passed quality inspection, it is able to be framed promptly … cube and dome bases are hand-painted and finished, acrylic housings are cut down to fit each individual bouquet, jewelry boxes are modified to receive their keepsake designs and lanterns glazed and cleaned, glass and framing backings are cut and fit to receive their respective keepsake designs.
Before the keepsake leaves the framing workshop, it is inspected and each detail is touched up and finished by hand, another time-consuming and deliberate part of the keepsake creation process.
Then one more quality check before your keepsake is allowed out of our sight!
---
Your Keepsake's Proper Sendoff
Always handled with care!
Framed keepsakes enter our shipping department where a photo of the completed keepsake is taken and our lead design consultant and quality a control team member give the piece a final check before packaging and shipping your keepsake to you.  Keepsakes are packaged carefully with the utmost care and concern for the safe travel of your commissioned piece of artwork.
Your keepsake is shipped via signature-required service, approximately 16 – 20 weeks after final design decisions are made and the balance and all  non-floral design elements have been received.  Some keepsakes may be shipped before or after these estimates.  Once it arrives to you, your keepsake is ready to be unpackaged and displayed as designed, providing you with decades of enjoyment and a cherished memento of your special day.