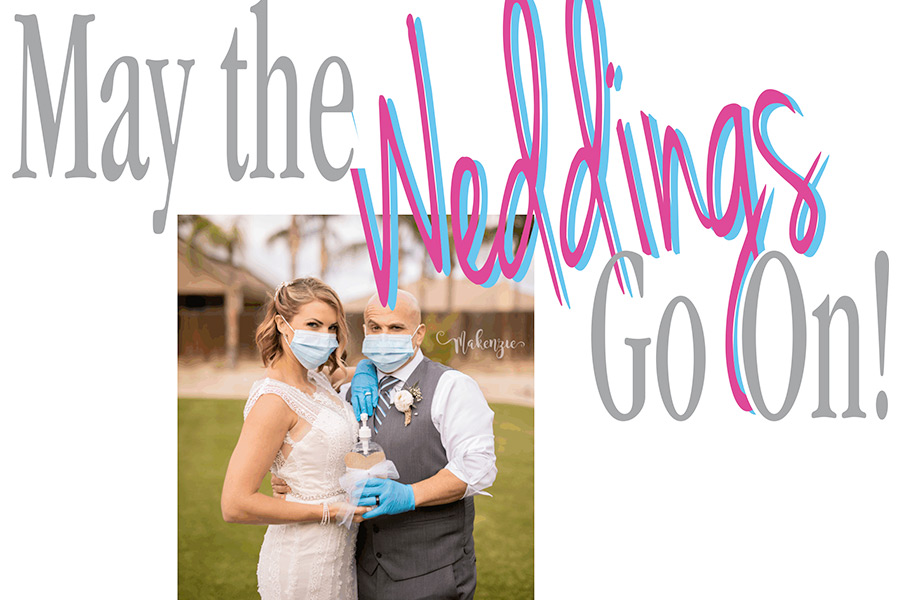 This peculiar time in history has had quite an impact on important aspects of everyone's lives lately. As we all know, safety precautions remain important as the world slowly tries to adjust back to its "normal" schedule. In response to wedding dates getting cancelled, postponed and remaining unset, minimizing wedding ceremonies has gained some popularity. With a little help from modern-day technology, anyone's previous 'big day' plans can be altered to cooperate with these mid-pandemic times.
As with any wedding [even when down sized] there are important details to consider. For starters, there's the location to decide. An at home wedding can allow for a fun decorating opportunity, while also avoiding the hassle that comes with booking a wedding venue, but an alternative location other than one's own home doesn't need to be out of the question, either. If the situation allows, a possible option is to invite a small and safe selection of people that one would be comfortable with having in home.
Many people have been in contact with small circles of close friends, family members, and coworkers during these times of quarantine that could be considered to be a part of one's ceremony (or "minimony" as declared by The Knot). If the location chosen is suitable, guests could be invited to celebrate from the lawn or garden, with chairs set up at a safe distance, of course.
Another consideration could be having guests experience the marriage ceremony from their cars, like a drive up wedding! And for the people that are unable to physically attend, there are convenient and easy to use video conferencing services, like Zoom, available free of charge to help you connect. Everyone involved can still dress up for the occasion and have a blast, even when having to make the best of the times. With today's social media, it's even possible to live stream and share with online friends, too.
Of course, not all of the celebrating has to be done during these socially distant times; some people have resulted to throwing a reception party or vow renewal/sequel wedding at a later date. That makes for double the excitement! Not to mention the obvious, but a 2020 quarantine wedding would make for a truly unique and unforgettable wedding experience for anyone involved.
Although having to improvise a wedding isn't preferred by or suitable for everyone, the whole point of a marriage ceremony is to celebrate the love two people share for each other. We are all having to adapt to these strange and uncomfortable times, and could all use something to celebrate!