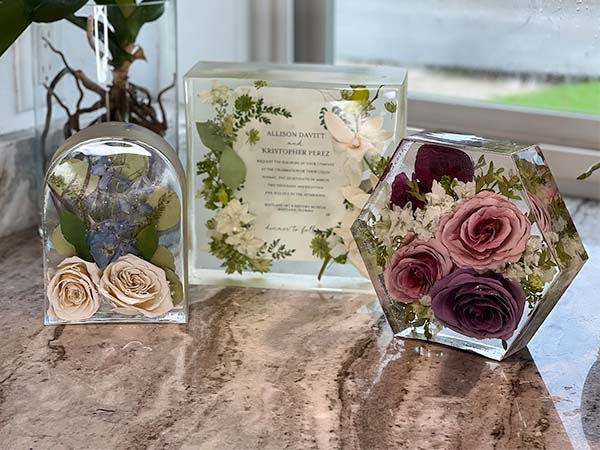 All the rage in floral preservation circles, resin keepsakes provide a modern look to preserved wedding and special occasion flowers, and Keepsake Floral is now offering these sleek and beautiful options for our clients.
As always, our clients and referring florists and industry members can continue to rely on Keepsake Floral to provide the highest level of quality and design acumen within this product line as that we've provided for nearly 30 years in our other keepsake product lines.  And Keepsake Floral's continued hallmark of lasting floral color also sets OUR resin keepsakes apart from that of smaller and local competitors for the same reasons our other keepsake products stand out .. lots of floral preservation experience, trained and talented design and production staff and color enhancing of EVERY flower prior to its use within the keepsake .. resin keepsakes too!
It is this color enhancing that helps deter the flowers from fading over time .. its the secret sauce that can only be found in a Keepsake Floral keepsake, and will be the stand-apart feature of our resin keepsakes as well.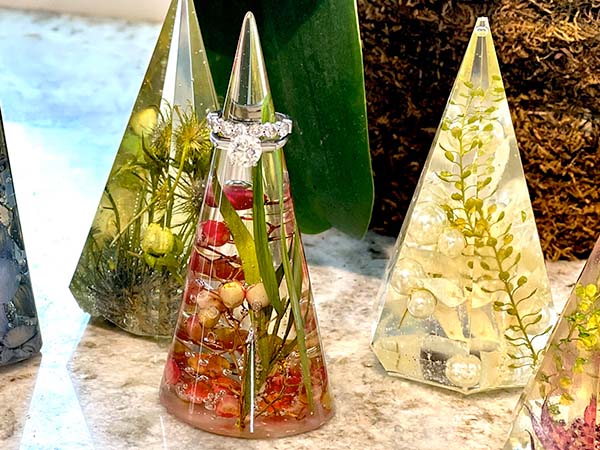 Keepsake Floral's Crystal Clear Keepsake Line includes, three sizes of square blocks, hexagon and cathedral blocks, ring holders, coasters and clear floral serving trays.  Pricing for the products ranges from $150 and up, and includes our one on one design consultation for each client.  Coming soon will be the introduction of frosted and other decorative finishes for the keepsakes' outer edges, also a unique feature of the Keepsake Floral Crystal Clear Resin Keepsakes.  So stay tuned for that detail to come.