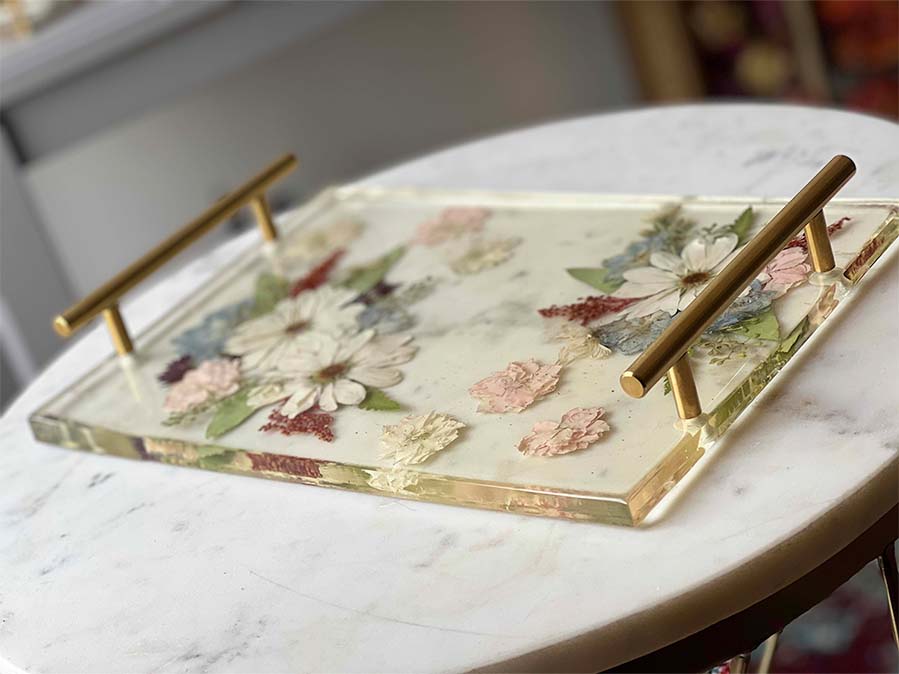 If you're a florist or wedding planner, you know that the blooms used in arrangements and bouquets can really make or break a look.  When the Keepsake Floral Keepsake artists create beautiful floral keepsakes, such as vanity trays or drink coasters, there's one key factor we need to keep in mind — go flat! That's right; flowers whose blooms are more flat shaped than bulbous work best in shallow resin keepsakes.
Among the resin keepsake collection at Keepsake Floral, the most shallow options are our vanity trays and coaster sets.  When it comes to creating the perfect resin tray or coaster set with your favorite flower arrangement, the shape of the bloom plays an important role. That's because these particular resin molds are quite shallow and therefore don't allow much depth for large and/or bulbous flowers. In fact, even if they do fit inside the mold, they may not last long as they begin to decay quickly due to lack of air circulation. On the other hand, flat-shaped blooms tend to last longer due to their more compact size and better air circulation around their petals.  Deeper resin castings like the keepsake blocks, in various sizes and shapes, easily house larger blooms, but not these smaller keepsakes.
But there's another benefit to using flat-shaped blooms for resin keepsakes – aesthetics! Since these flowers have a less voluminous shape, they will sit nicely together within the mold and won't overpower each other with their individual presence. This creates an elegant overall look that is sure to impress any recipient of your flowery gift. Furthermore, since these types of blooms tend to come in smaller sizes than their bulbous counterparts, you can easily get creative with your arrangements by packing lots of them into one single container!
Combining Different Types of Flowers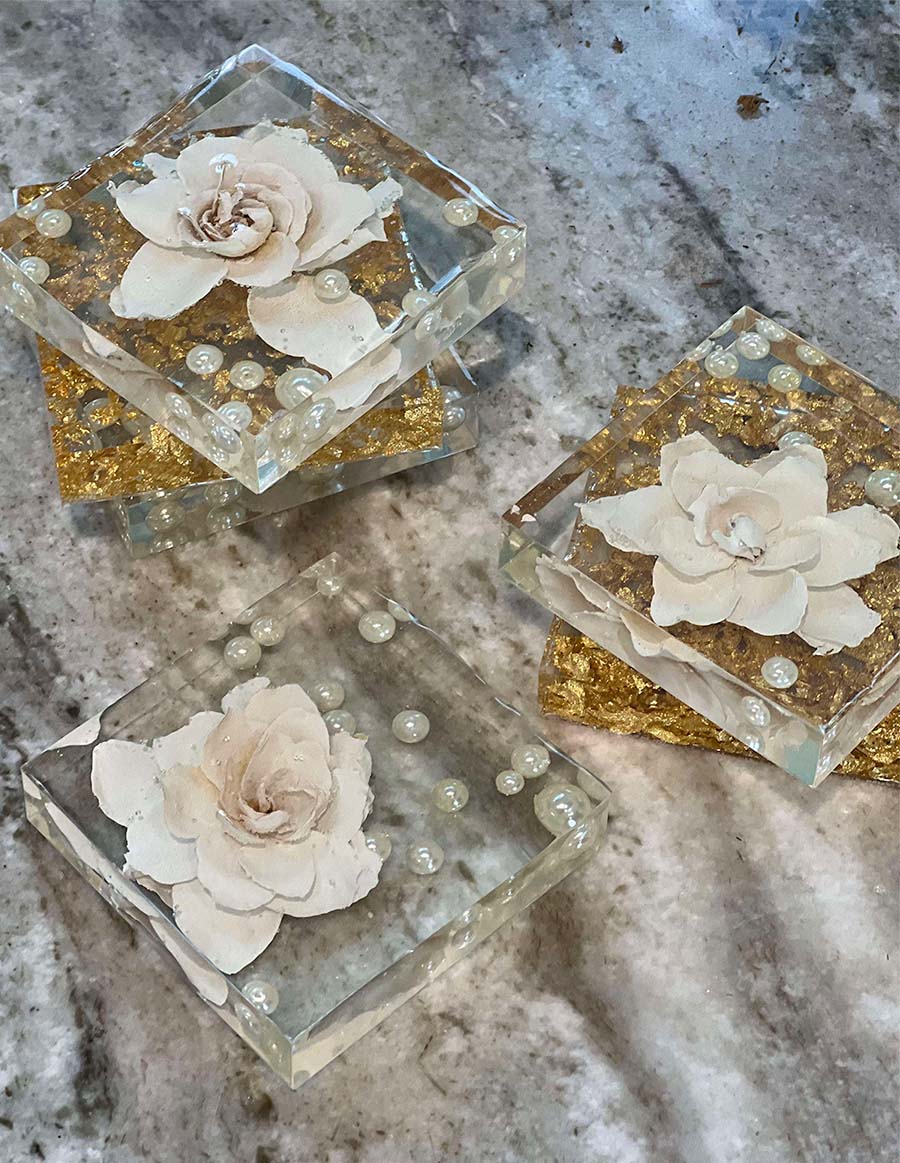 While flat-shaped blooms are ideal for shallow resin molds, there is nothing stopping you from combining different types of flowers into one single arrangement .. we just have to utilize only petals from larger flowers along with the complete, smaller blooms.  Pairing petals and leaves from long-stemmed roses with some low-lying daisies or lilies will give your keepsake an interesting mix of colors and textures while also adding volume without sacrificing too much space within the mold itself. We just have to be careful not to overdo it .. too many blooms can really become detrimental to an airy and negative-spaced resin design.
Flat-shaped blooms are the ideal choice when it comes to creating beautiful floral keepsakes using shallow resin molds. Not only do they last longer due to their more compact size and good air circulation around their petals but they also provide an elegant aesthetic that won't overshadow the other flowers placed together in the same container. So go ahead – let's get flat!