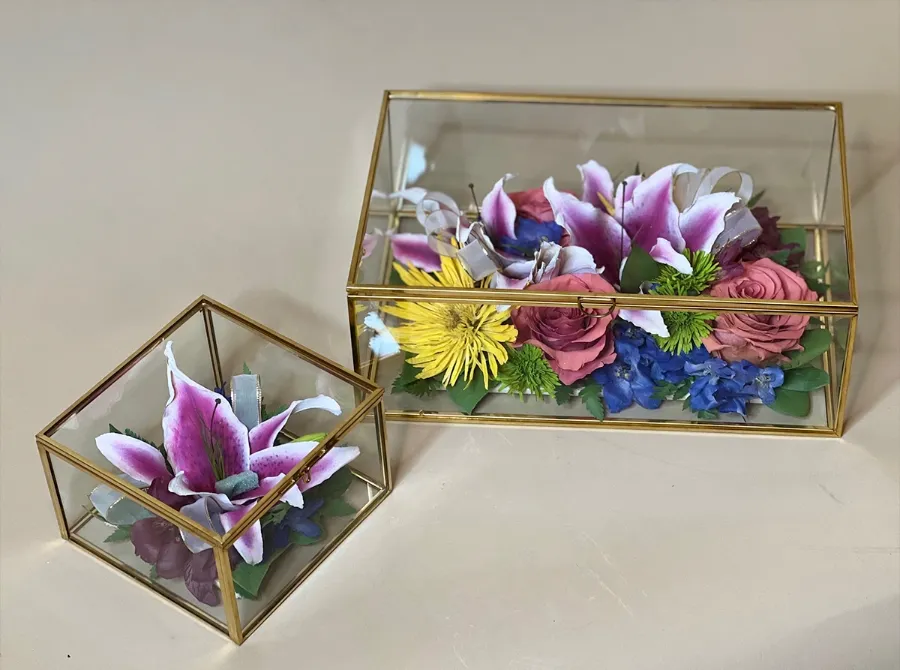 Keepsake Floral's Glass Box Keepsake Collection is a clear, clean and unique presentation of preserved flowers. Clients can select from small glass boxes, measuring 4″ x 4″ to a mid-sized glass box akin in size to a box of candy…and who wouldn't love that?!
And, honestly, the flowers within these lovely, crisp keepsakes, look like dessert! When enclosed in a small, bright and simple environment, preserved flowers take on a gorgeous and delicious personality. Without enough room for more too many ancillary mementoes, the softness and suppleness of the blooms can really shine when only a select few blooms are featured.
Pricing ranges from $395 to $475, for keepsakes sized up through a 7″ x 9″ x 3″ rectangular box. In the larger pieces, a small photo or invitation would work nicely nestled within the bed of flowers.  These versatile pieces work well as stand alone keepsakes or as add-on keepsake purchases to a full-sized keepsake order. Great for mother of the bride or groom, or bridesmaid gifts.