What type of keepsake tickles your fancy?
Floral Keepsake Styles to Match Your Tastes
At Keepsake Floral, every keepsake we create is custom designed to match your individual style and tastes. Once we have received your original flowers, you will schedule a design consultation with one of our team members. During your telephone consultation, we will assist you in making design and style selections for your keepsake. Among those decisions, you will choose which type of keepsake will work best for your bouquet. Below, you'll find the keepsake style options we offer.
---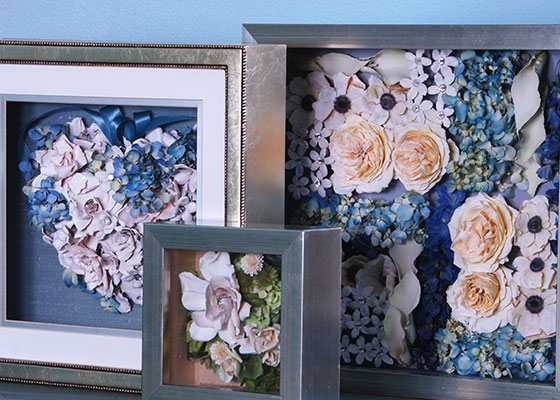 Custom Shadowbox Keepsakes
A shadowbox is a picture frame with a depth from about 2 to 4 inches. Shadowbox keepsakes are most suitable for including pictures and invitations & are designed to hang on your wall (hardware included) or may be displayed in a curio or shelf with the help of an easel.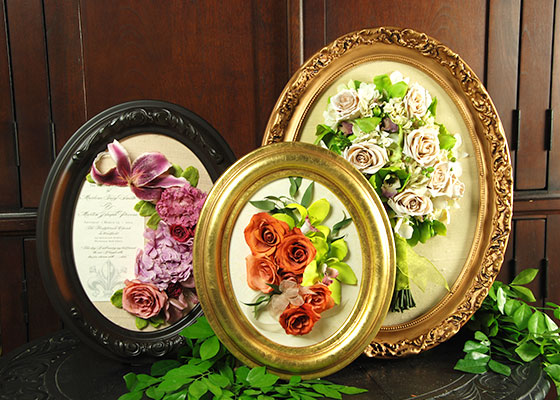 Elegant Oval Frame Keepsakes
Oval frame keepsake's depth is achieved through the deep, bubble-front acrylic cover that is used in place of glass. They are designed to hang on your wall and will arrive complete with hanging hardware. Oval keepsakes enable our designers to achieve the deepest keepsake designs.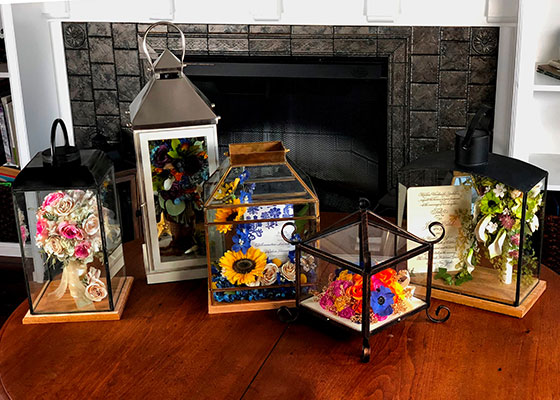 Keepsake Lanterns
A Keepsake lantern is a preserved floral arrangement placed inside a beautiful wrought iron lantern with the light removed. These keepsakes are available in three sizes, and is a stylish and contemporary way to display your wedding flowers forever.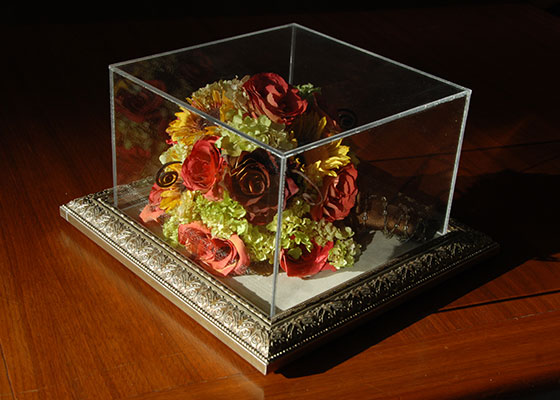 Tabletop Cube Keepsakes
A tabletop cube consists of a base (4 available colors) and a 5-sided acrylic top (4 sizes). It allows you to view your flowers from all sides. Medium and large tabletop cubes are also available as a "framed cube," where the wooden base is framed in one of 3 different frame styles.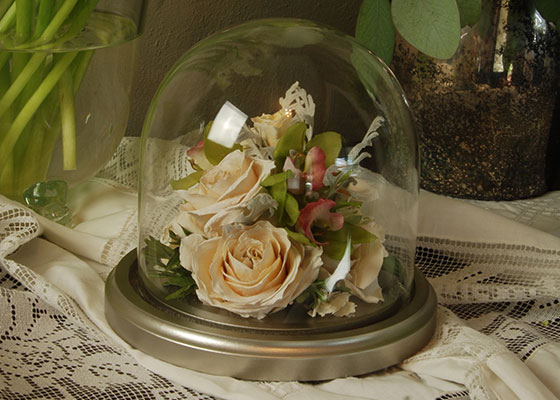 Tabletop Dome Keepsakes
A tabletop dome floral keepsake includes and sits on a wooden base complete with padded ball feet and a clear, glass dome top. Dome floral keepsake bases are available in four elegant finishes and are available in two different sizes to showcase your floral arrangement.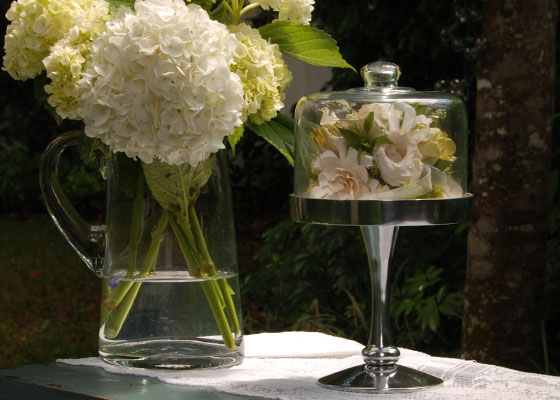 Tabletop Pedestal Keepsakes
A tabletop pedestal keepsake sits on a sturdy, footed base and features a glass dome top with a distinct knob at the crown of the dome (called a cloche). The keepsakes come in multiple pedestal base styles and each of these styles is available in its own unique finish.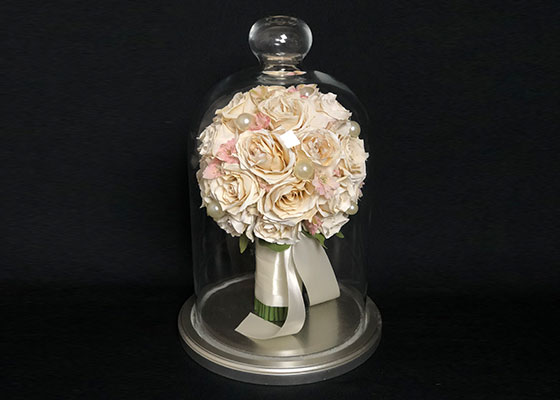 Tabletop Cloche Keepsakes
A tabletop cloche keepsake is similar to a dome keepsake, however cloche keepsake domes feature a knob on the top of the glass dome. In addition, the cloche keepsake has alternate base options. Each style of cloche is available in one size and one distinct finish.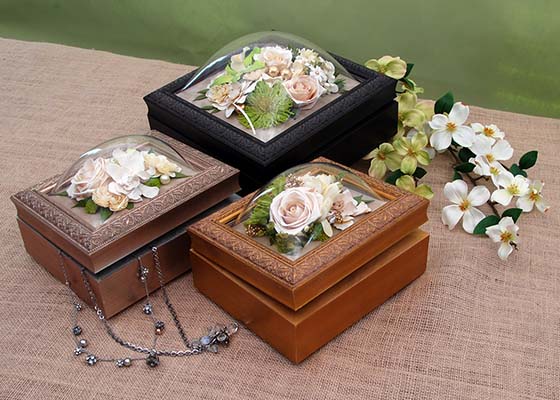 Tabletop Trinket or Jewelry Box Keepsakes
A Keepsake trinket or jewelry box is a hinged box with interior storage of about 1 1/2" inches in depth. Interiors have a soft, flocked black or dark green lining. The flowers are displayed in the top of the trinket box with an acrylic bubble providing the cover and depth for the floral design.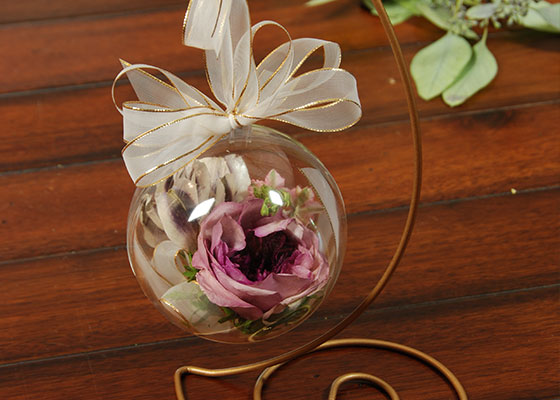 Tabletop Ornament Keepsakes with Stands
What a sweet appreciation or additional keepsake for a parent, friend or yourself!  Our Keepsake ornaments come in two sizes, each housing from one to three blooms, depending on the size of your flowers. You choose ribboning and color of the ornament's stand.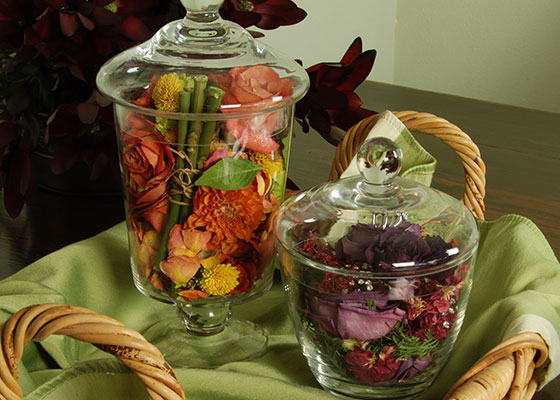 Tabletop Potpourri Keepsakes
Enjoy your flowers as a beautifully scented potpourri – or transform your bridesmaids' or parents' personal flowers into a collection of potpourri as an appreciation gift.  Once preserved, we'll add our special Keepsake Potpourri scent & enclose them in one of two sizes of lidded glass jars.
---
Floral Layouts
Resemblance
A designer's artistic rendition of your bouquet, not an exact replica of the bouquet, but a very similar look within the frame. This may be either a top-down, front or side view.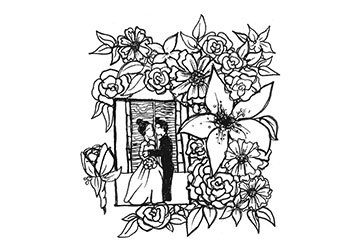 Cherish
Your wedding invitation or photo nestled among your flowers and greenery.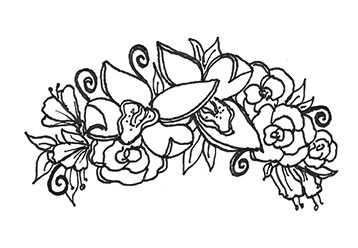 Crescent
An artistic swag of your flowers – a boutonniere, photo or invitation may compliment the design below the swag.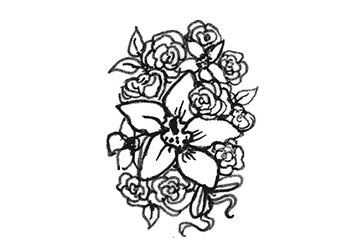 Floral Cluster
A handful of your flowers arranged in a simple, yet elegant grouping with ribbon accents.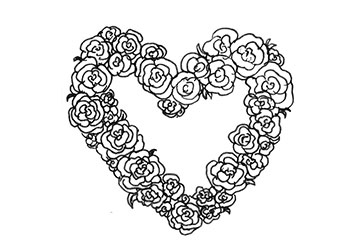 Heart-to-Heart
A solid heart or an outlined heart shape with your flowers and greenery.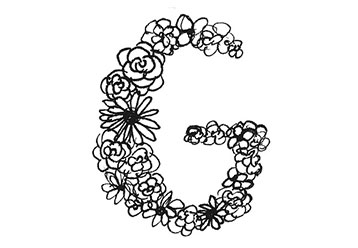 Monogram
The initial of your choice, created from your flowers and greenery.
Topiary
A decorative cachepot with your flowers and greenery simulating a growing topiary.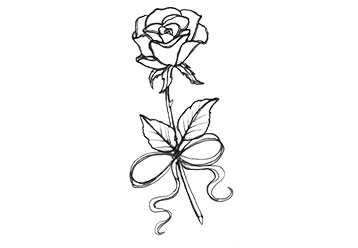 Stemmed Flower
The stemmed flower design is just that – anywhere from one to three flowers displayed with stem(s) in a moderately sized shadowbox or oval.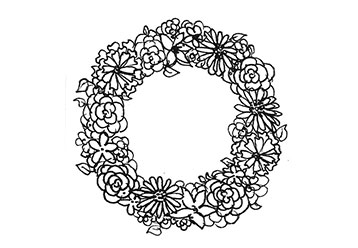 Wreath
A circular wreath-like design, fashioned with your flowers and greenery.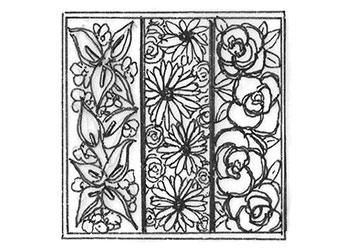 Tiers
Tiers create horizontal or vertical segments within your shadowbox.  Separated by fabric or paper-lined walls, each separate tier or section can contain a different flower type of color scheme.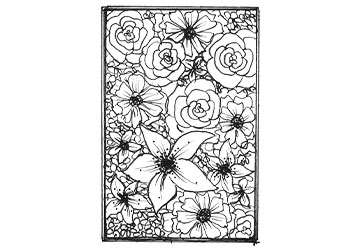 Blanket
Blanket your keepsake in flowers. Your flowers artfully and closely designed to fill your shadowbox.  Nestle an invitation or photo within the swath of flowers for a soft, lush presentation of your printed piece.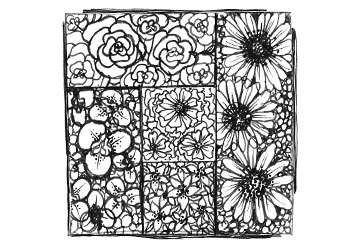 Mondrian
Geometric grouping of flowers named after the Dutch abstract painter who made famous the design style "neoplasticism".